Leather table cup mat 2pcs
89.00 lei TVA inclus
Made of natural leather and treated naturally, the table cup mat has a matte finish and comes in 2 colors.
To maintain its quality for a long time, we recommend maintaining the cup mat by wiping the skin with a fine, damp cloth.
Qualities of Genuine Leather
Because leather is a natural product made from animal hides, it varies from hide to hide. Variations in the texture of the leather are not a flaw, but rather part of the leather's natural beauty and originality. Because each piece of leather is unique and may react to color dyes differently throughout the tanning process, variations in the consistency and depth of the color may occur.
Quality leather,
We exclusively utilize high-grade leather from Romania, and we make no compromises when it comes to selecting the best leather. The company's policy is to not accept product returns for any reason if the reason is due to the nature of leather products.
For long-lasting use, protect your desk pad from getting wet and prolonged exposure to direct sunlight and heat.  As a natural product, it is subject to wear and tear over time.
Leather, Materials and Colours,
Ergoliv has taken every effort to guarantee that the products are appropriately represented, that product information is correct, and that the colors and appearance of our products are accurately displayed. We cannot guarantee that the color you see on your screen will accurately reflect the true color of the goods ordered due to photographic lighting sources or differences in device screen settings. Ergoliv makes no representations or warranties about the accuracy, completeness, or error-free nature of product descriptions, photographs, get-ups, or other product descriptions, or the content of this site.
The Pad is available in 2 colors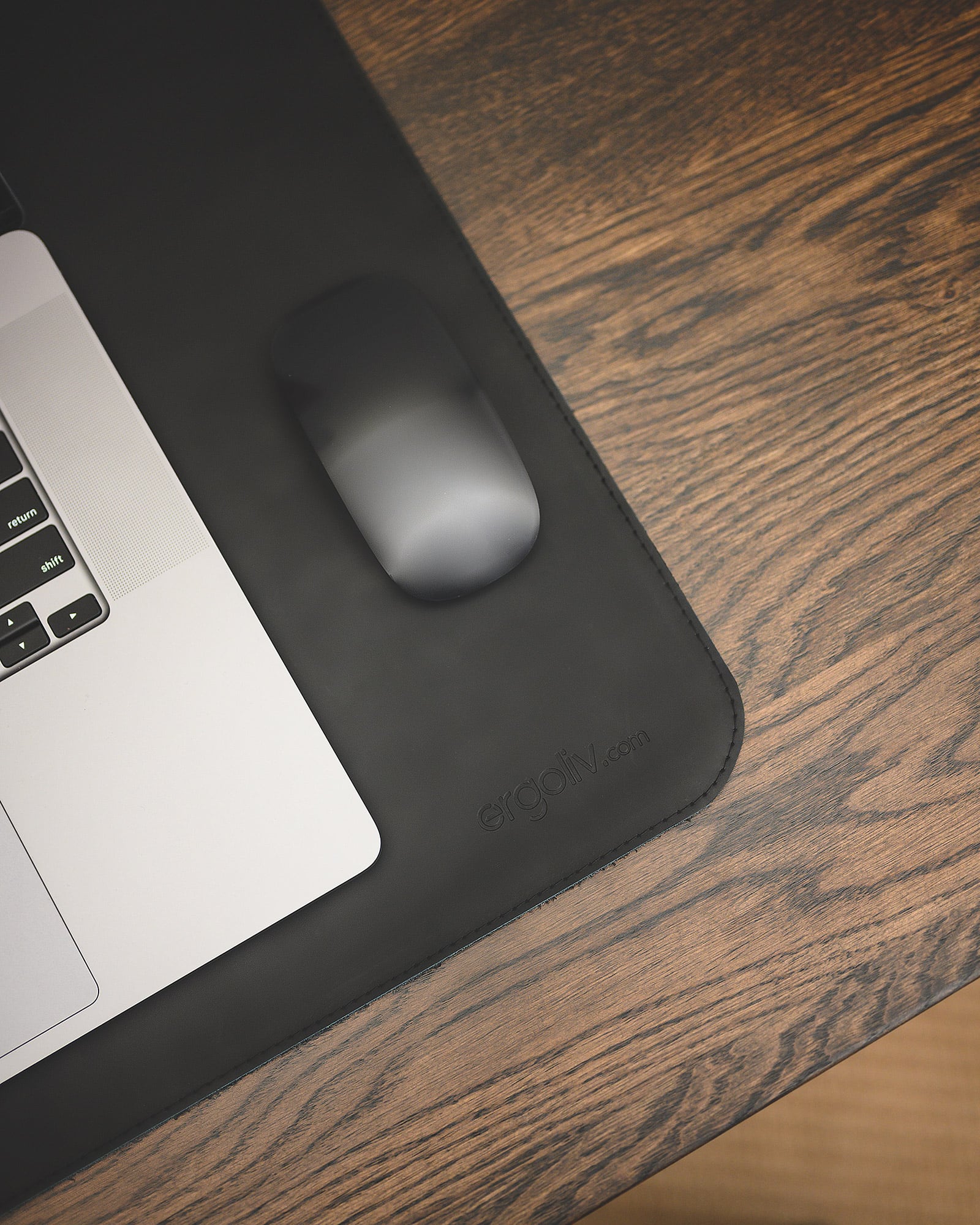 Black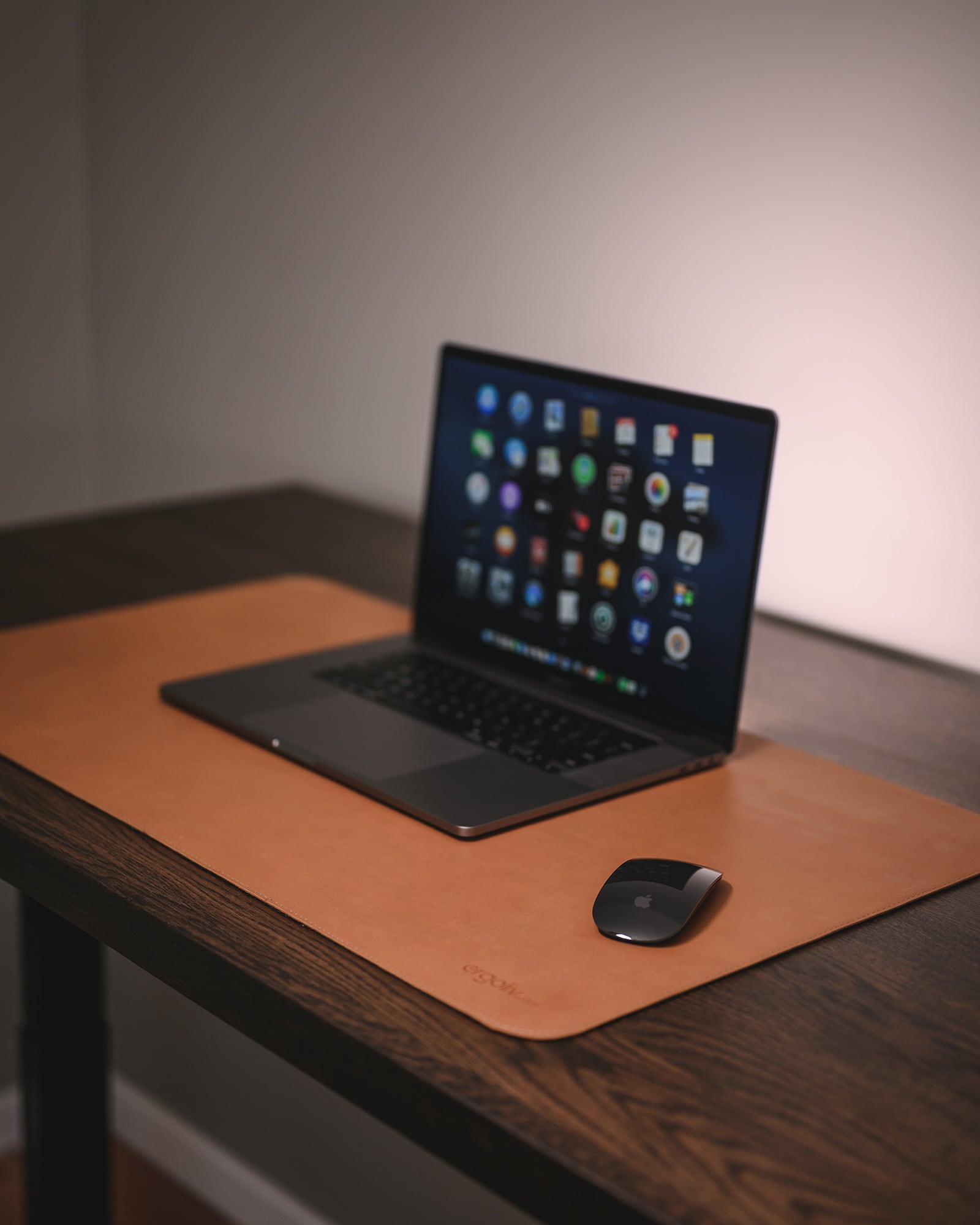 Brown
Stand up for your health!
What are you waiting for? Order Now!
Why should I use a standing desk?
Because it's cool!! of course. There are others reasons also, but most important for us is that it will help you stay healthy. Even if you are new to a 6-8 hours desk job, or maybe more, we know from our experience that some back pain, legs pain from blood not circulating well through, will start to appear soon. Of course you can take some long breaks, it will help a bit, but not always enough. With a smart standing desk, you can switch from standing to sitting as soon as you feel something's not right. We suggest you to start with a 5 minutes per hours, and try to increase it to 15. So this is our main reason we tried this hard to find and build this solution, but of course there are others reasons, and depends on the job you are doing these could differ. If you already use one of these solution, let us know, what is your reason?
Why should i use a standing mat?
Our anti fatigue mats are engineered for comfort. it will relieve up to 47% pressure on your knees, feet and delicate joints in the legs. Enjoy the Comfort this Mat delivers at your office, workplace and why not, in your kitchen.
What material is used in the standing mat?
Our standing mat is made with highest-grade foam at the inside to eliminate pressure and provide superior support. On the outside it is made from soft PU leather for a nice touch and confort.
Materials we use are Eco-friendly: Non-toxic, phthalate free. No noxious smells or chemical leaching, Easy To Clean,Anti Microbial surface
Ergoliv is based in the city of Oradea, witch is in Romania/Europe
Company Details:
Name: Ergo Activ Desk SRL
CUI: 37974289
Vat-id: RO38293218
Registry No: J5/2142/2017
Address: Str. Salcamilor NR. 7 BL. 131 AP. 1 Oradea 410283, Bihor, Romania
All Ergoliv products come with a default warranty of 24 months. Some parts of the standing desk's have an extended warranty of 5 years: columns, controller and control box.
How much weight can the ergonofis desks support?
Up to 150 kilograms. Our top weighs on average 20-40 kilograms.
How can I clean my Ergoliv desk ?
The best way to clean your adjustable sit/stand desk is to gently rub it with a damped piece of rag or towel (not soaked). Don't use any cleaning products to keep the finish of the wood intact.
No helpful answer?
If you can't find the right answers to your questions, don't hesitate to contact us directly or book an appointment.
Subscribe to newsletter
Health tips, product updates, special events, #ergoliv